When choosing outdoor patio furniture, teak wood is highly durable choice with very little maintenance required. Many people love the original honey color when using teak furniture inside the house as living room furniture, while others prefer the silvery gray color that comes from outdoor weathering. Whether it is the original honey color or the silvery gray patina of age that is desired, teak is a long lasting wood that stands up to the weather over time without covering or necessary oiling.
Does Teak Need Frequent Oiling? 
Oiling teak furniture on a frequent basis sounds like an arduous process. Buyers should not let this stop them from enjoying sustainably produced quality teak furniture. Teak does not need to be oiled at all unless the plan is to use it indoors as living room furniture or there is a wish to retain the original honey color of the outdoor teak furniture. In either case, then oiling from time to time will keep the teak's honey color vibrant and true. If the teak furniture is outdoor furniture, there is no need to oil routinely, as it actually promotes mildewing and causes problems. Simply cleaning the outdoor furniture with a soft bristled brush and mild soapy water from time to time is enough maintenance for quality teak patio furniture.
 Minwax Teak Oil for Teak Wooden Protection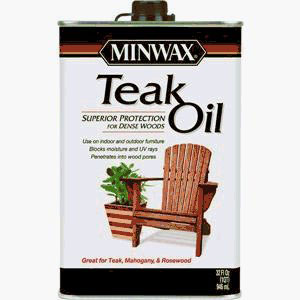 Tips for Purchasing Teak Furniture 
According to the Eileen's "How to Get the Best Deals on Furniture", as with any purchase, consumers want to ensure they are getting a quality product for the money. Here are a few things to keep in mind when shopping for teak furniture:
1.Buy from a reputable source that gets their teak wood through sustainable resources. This means the product is sourced through companies where the forests are harvested yet also maintained for the future instead of simply decimated for the product.
2.Check online as well as in brick and mortar stores. Places such as Ethnicraft online furniture stores can provide you with sustainably produced, well made teak furniture.
3.Ensure the furniture has been constructed using top grade teak and traditional construction methods. Lower grade wood coupled with quick, shabby construction leads to an inferior product that is not durable.
With a little information, consumers can purchase beautiful teak furniture for the home that requires very little maintenance yet is comfortable and durable. By ensuring the purchase is sustainably produced, buyers are contributing to the better treatment of the world's forests while also beautifying the home or patio. The care of teak furniture is minimal while the enjoyment factor is high. That's a win/win situation for the consumer.
Teak Outdoor Furniture: Care and Buying Tips